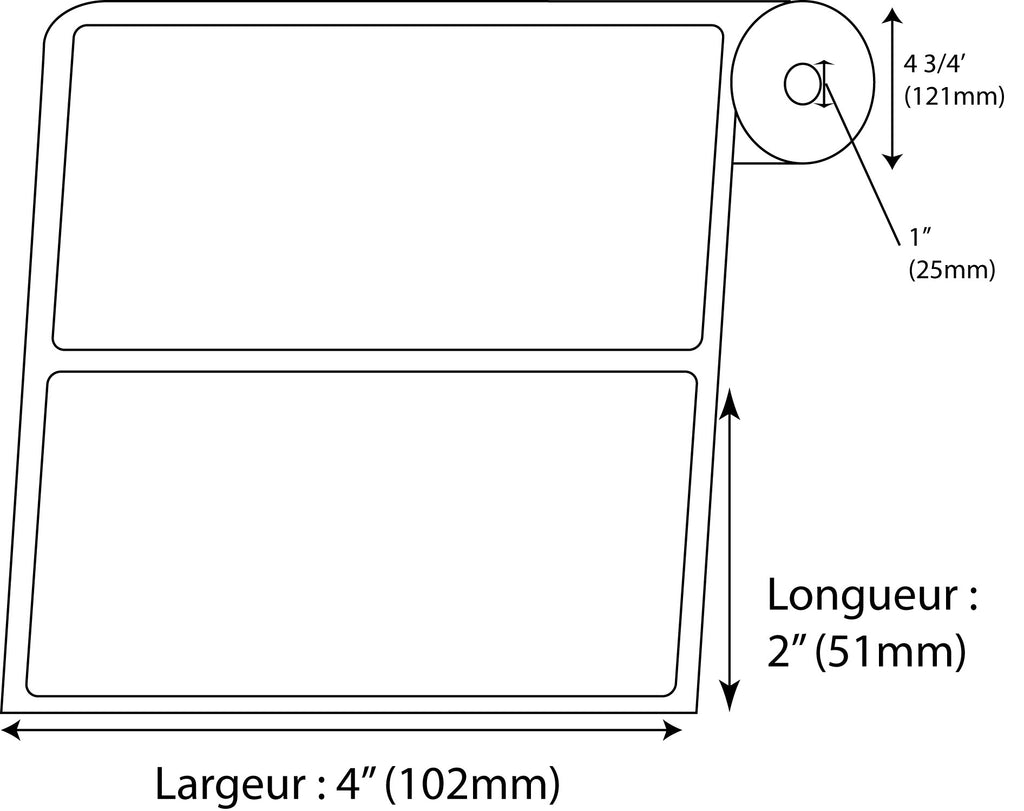 Rectangle labels 4" x 2" direct thermal white in jumbo roll of 1275
Roll of white labels direct thermal
Made in Quebec, these labels use high-end direct thermal paper.
A perforation allows each label to be detached individually.
No ribbon is required to use these labels.
Choose the number of rolls you need.
These "jumbo" rolls are more economical and need to be changed almost twice as often!
Warning: These rolls do not work with printers compatible with rolls of 4'' and less.
See printer compatibilities below.
Specifications:
Width: 4''
Length: 2''
Quantity: 1275 labels per roll
Core diameter: 1''
Roll diameter: 4 3/4''
Compatibility:
Citizen: CL-S300 - CL-S321 - CL-S521 - CL-S621 - CL-S631 - CL-S6621 - CL-S6621 XL
Cognitive: EZ-LP
Datamax: EClass Mark III (E4204B - E4304B - E4205A - E4305A -E4206P -E4305P - E4206L - E4305L) EClass Mark II (E4205e - E4304e) EClass (E4204 - E4304 )
Intermec: EasyCoder - EasyCoder 7421 - C4 Direct - C4 Transfer - PC4 Direct - PC4 Transfer - PC41 Direct - PC41 Transfer - PC43D - PC43T - PF8D - PF8T
Postek: Q8/200 - Q8/300 - G-2108D - G-3106D
Sato (Argox): CP2140Z - CX400 - Amigo A-2240 - A-2240E - A-2240ME - A-3140 - A-3140Z - CP-2140 - CP-2140E - CP-3140L - CP-3140LE
Toshiba TEC: B-EV4D GS - B-EV4D TS - B-EV4T GS - B-EV4T TS
TSC: TA210 - TA310 - TDP244 - TDP245 - TDP247 - TDP345 - TTP247 - TTP345 - TC200 - TC210 - TC300 - TC310 - DA200 - DA300 - TTP244CE - TTP245C - TTP343C - TX200 - TX300 - TX60 0 - TA200 - TA300 - TDP-643R - TDP-643 More
Wasp: WPL205 - WPL304 - WPL305
Zebra: GC-420D - GC-420T - GK-420D - GK-420T - R2844Z - GX-420D - GX-420T- GX-430D – GX-430T - ZD-500 - ZD-500R - LP2844 - LP2844Z - LP2844 More - TLP2844 - TLP2844Z - TLP 2844 Plus - TLP3842 - TLP3844Z - S4M - DA402 - T402 - LP2742 - TLP2742 - LP3742 - TLP3742
---
---
More from this collection