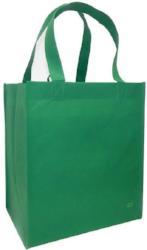 Non-woven polypropylene reusable bags - medium size
Non-woven polypropylene reusable bags - medium size
Ideal for: Clothing, convenience store etc...
Comply with new regulations and offer a low-cost option to your customers.
This bag is available in a printed version with your logo. Click here.
Choice of colors: Black - Blue - Green - Red - Orange - White - Beige - Pale Brown - Purple
Specification :
Width: 12''
Depth: 6"
Height: 14"
100 bags per box.
The product may vary from the one shown in the picture.
---
---
More from this collection